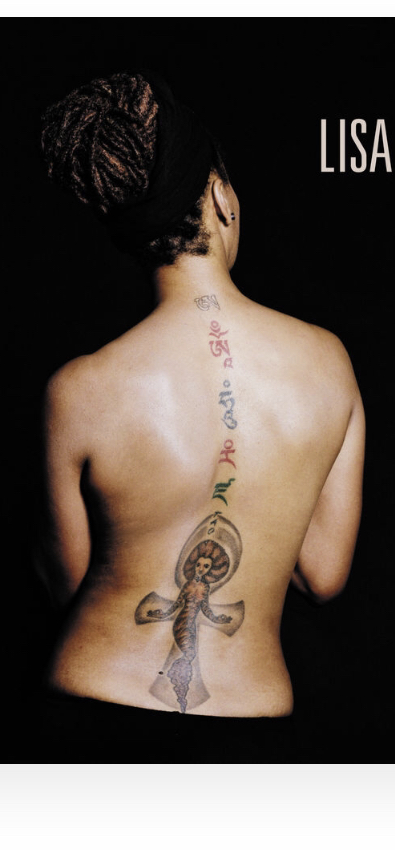 Many have asked what my tattoos mean, and how an image of them came to be the cover of the album, ALL IS WELL. In 2013, I learned the ancient practice of chanting. The method I was taught at the 3 Doors Academy is called, Tibetan Sound Healing, and the symbols are called the Warrior Syllables. Each Warrior Syllable corresponds to a chakra, a color, an element, a movement, and a sound. This practice is responsible for many transformations I have experienced on my healing journey. They made such a profound impact on my life I decided to have them tattooed on my person that same year.
Working my way down from the top, the symbols are
The forehead/crown…sound 'A' (ah)…. Boundless Spaciousness …color: White
The throat…sound 'OM'…. Awareness….color: Red
The heart…sound 'HUNG'… Equanimity/Completeness….color: Blue
The navel….sound 'RAM'….Ripening…..color:Red
The secret chakra (four fingers below the navel)….sound 'DZA'….Manifestation….color: Green
The Goddess is my Avatar. She represents my spirit. Her stripes capture the essence of the tiger, since I was born in the year of the Tiger, according to the Chinese Zodiac.
On the day of the photo shoot for the album, in 2014, with photographer Frank Lourio, I took the fast train into Paris with a heavy suitcase filled with every possible piece I thought I might need to look fabulous. In between changes, my then press attaché, Muriel Vandenbosche walked in to the changing area and exclaimed, "What is this?"; with her heavy french accent it sounded more like, "What eez zees?". Since I cannot see my tattoos I often forget I have them, so my response to her question was, "What is what?". Looking through the mirror I saw her point at my back, and I briefly explained the meaning of my tattoos. The next instant she was yelling for Frank to come and see what she had discovered, and shortly thereafter, I was posing topless as Frank took pictures of my back. So much for the suitcase!
It happened in a flash, and the cover image of my first self-penned album, ALL IS WELL, still remains my favorite to this very day.